Our Story
           Soukie Modern mixes traditional Moroccan tribal flair with classic Mid-Century design. From bespoke weavings, to contemporary and vintage rugs, clothing and home goods - Soukie Modern instantly became a must-see in one of California's most stylish town and is considered a top curator of Moroccan Goods globally. ▪
Discover.
Good things await you.
"The most stylish rug merchants in the west."
— Sunset Magazine
Inspire.
From our friends.

See how our community has styled Moroccan rugs in their spaces and find inspiration for your next project.
Process.
Thoughtfully woven.

Moroccan rugs are considered to be one-of-a-kind art pieces for your floor. Hand-made, yet durable, worn with time, and filled with beautiful imperfections. Each one is wonderfully unique and tells its own story. Items that have lived and seen love.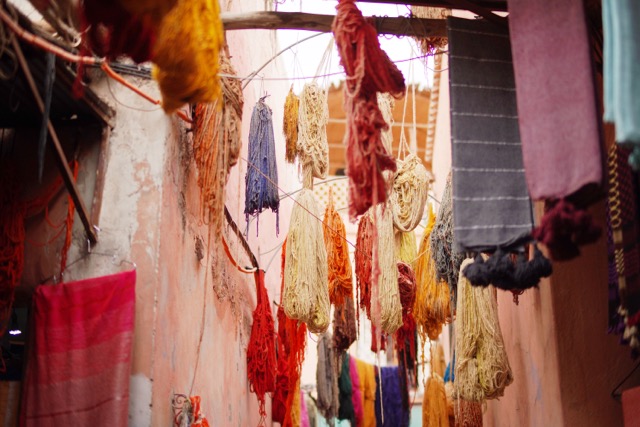 Raw materials in the Marrakech Medina
Fig. 1
Organic Materials
From our clothing and homegoods, to jewelry and pottery, to our rugs and custom bespoke tapestries- everything made for and by Soukie Modern is with organic materials. Many of which we ourselves, and the makers we partner with travel the world to have worked to gather hand selecting textures, colors, and tones that are made to last.Traditionally, many Moroccan rugs, tapestries, and weavings are made with up-cycled materials out of necessity but we have also committed to continuing the efforts of sustainable and upcycled or deadstock sourcing as a practice and a promise.
Fig. 2
Ethically Made
As a Berber weaver himself, Taib is deeply connected to the weavers we work with back in Morocco, in touch with them daily, and visiting as often as possible. He has a hand in designing and buildings the looms in which many of them weave on. They are paid fair wages, work in safe conditions, and are treated as and considered to be family. The contemporary rugs that are designed and produced for and by Soukie Modern are made as one of a kind pieces with a sense of pride and love woven into them.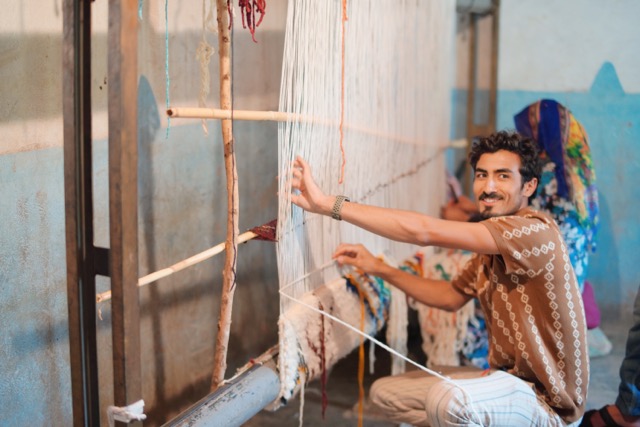 Taib collaborating with a weaver in the Ourika Valley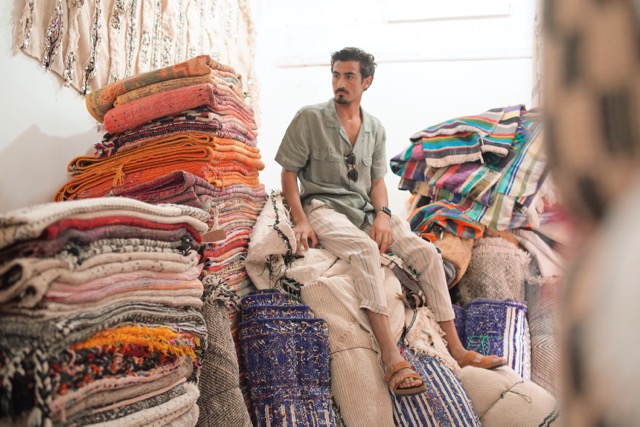 Sourcing vintage rugs in the Marrakech Medina
Fig. 3
Vintage Sustainably Sourced
Moroccan rugs are all representative of the tribes in which they are from. Many are sold and resold online by dealers who may not know or care about the history or craftmanship of each tribe. Taib works directly with families and his team of sourcers in Morocco to care for each Vintage rug purchased, holding intact the stories that come along with it. Many of the sourcers in Morocco have been known to share their 'limited' stash of rare vintage pieces with Taib knowing a Soukie Rug is going to a home that appreciates and cares for vintage pieces.